Solutions - Management Consulting Solutions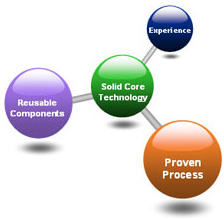 G|I|S is more than just an "IT Management company"; we are experts in delivering business-driven technology solutions and management consulting services that help our clients gain competitive advantage by making their businesses more responsive to market opportunities and threats, strengthening relationships with customers, suppliers and partners, improving productivity and reducing information technology costs.

We partner with leading global organizations as needed to collaboratively diagnose problems, perform scope analysis, design and deliver solutions and execute change to create significant value. We believe IT is a strategic business asset and must be an integral component of the overall operational vision in any organization. A well-planned IT strategy, combined with an informed business strategy, can drive change, performance and deliver measurable value to the enterprise.

G|I|S's experts know how to communicate this message in a language that makes sense at all levels of the organization, putting in business terms how IT investments can help forward-thinking businesses better understand how and why technology should be a critical piece of the strategic business plan. Very often, our experienced management consultants support our technology teams and provide tools that can help visualize, define, map, manage and deliver a business-driven technology solution.


Standard and Custom Offerings:
Multi-Sourced Global Delivery:
Green Light Methodology:
Our success is built upon our ability to translate corporate strategy into operational results. Our solution areas seek to deliver to our client's strategies through execution.
- Business Analytics
- Change Management
- Human Resources Solutions
- Process Excellence
- Project Management
Our partners' and our local and international global delivery centers will provide a concerted multi-sourced solution option for our global customers. This option combines senior-level solution advisors onshore to provide business and technical leadership and SEI CMMI, Six-Sigma and ITIL standards driven implementation services.
Find out more about Multi-Source Delivery
G|I|S's Green Light Methodology allows for repeatable, high-quality services delivery through a unique and proven execution process map. Our methodology is grounded in a thorough understanding of our clients' overall business strategy and competitive environment.
Find out more about our Methodology

Smart Solutions

Paperless Office...
September 08, 2011 - Technology Management - Drafting a policy to go paperless is by far the simplest part of the process. The actual act of becoming paperlessmay appear to be a major undertaking at the onset... Read More

Bringing Technology and Management Advances...
July 22, 2011 - GIS - Utilizing technology advances and tools to manage your projects...Read More
What We Do
Some of our services are listed below: (for detailed list go to Services | Solutions)
Information Technology (IT) Solution Development and Support
Business Process and Workflow Management
Capacity Building and Total Infrastructure Management
Human Resource and Material Support
Marketing and Campaign Support
Operations and Project Audit Support
Development and Implementation of Training and Certification Programs
Search:

Get in touch
Address: P. O. Box 924
Lanham, MD
20703-0924
Telephone: +1 (866) 295-4296
FAX: +1 (240)245-3950
E-mail: global_info@gisvcs.com